Peacemakers
Information
Type
Pistol
Price
40 WarBucks
Power
140
Damage
50
Rounds per minute
674
Speed
+12
Found in
Gun Bros 1
The Peacemakers is one of the fastest basic guns. It has a RPM of 674, but it doesn't do that much damage. It has a +12 speed boost. It shoots a projectile from one pistol to the next and back again. It would not be recommended to buy this weapon because it has low damage, although good for rapid fire.
Description
Edit
"The Peacemakers are known for being some of the fastest pistols in the galaxy. There'll be no question here, the Bros. shot first."
| CATEGORY | LEVEL 0 | LEVEL 1 | LEVEL 2 | LEVEL 3 |
| --- | --- | --- | --- | --- |
| Power | 140 | 155 | 171 | 188 |
| RPM | 674 | 759 | 800 | 822 |
Although its name is similar to the Warbringers, they are nothing alike.
"The Bros. shot first" is probably a reference to the Battle of Lexington in the Revolutionary War, where no one is sure whether the Americans or British shot first.
The Peacemakers are recolored Mad Dogs.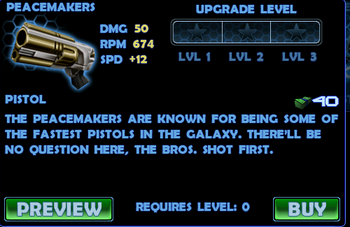 Ad blocker interference detected!
Wikia is a free-to-use site that makes money from advertising. We have a modified experience for viewers using ad blockers

Wikia is not accessible if you've made further modifications. Remove the custom ad blocker rule(s) and the page will load as expected.