The Kraken

"If annihilation had a portrait, it would be of you, holding this gun, screaming, as every living enemy within a mile was vaporized in an instant, leaving only smoldering boots, a T.O.O.L. helmet and regret."

Class

Heavy (special)

Power

1500

DMG

3000

RPM

462

SPD

+10

Price

3499 WB
The Kraken
 is the $500 gun that has been featured on a few websites. The Gold Kraken LE is highly preferred over this gun, as it costs 149 WB instead of 3499, thus the only reason why this gun would be bought for the $500 it sells for is to collect every gun in the game. It is meant to be one of the best guns in the game. It is a Heavy class gun, however it increases your speed instead of the normal decrease. Its main attack is a giant laser, but it needs to charge up. While it is charging, it shoots lots of small homing rockets which do a small amount of damage.
Note: the statistics are only true for the laser, as a laser class weapon (hits the enemy at a rate of 462, 3000 damage per hit). The rockets do much less damage than 3000, and fire much faster than 462, although it is not confirmed what the rockets' statistics are yet.
| CATEGORY | LEVEL 0 | LEVEL 1 | LEVEL 2 | LEVEL 3 |
| --- | --- | --- | --- | --- |
| Power | 1500 | 1550 | 1600 | 1650 |
| DMG | 3000 | 3200 | 3400 | 3600 |
| RPM | 462 | 500 | 550 | 600 |
This gun, and the Cataclysm X4, are the only guns in the game to have Gold versions. The Gold version of the gun is cheaper, but limited time offer.
According to legend, a kraken is a deadly squid-like sea monster.
The player is holding the gun backwards.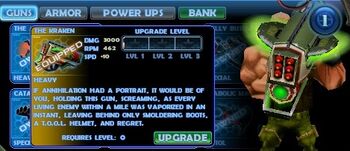 Ad blocker interference detected!
Wikia is a free-to-use site that makes money from advertising. We have a modified experience for viewers using ad blockers

Wikia is not accessible if you've made further modifications. Remove the custom ad blocker rule(s) and the page will load as expected.