ER97E Elite
Information
Type
Rifle
Price
FREE
Power
14
Damage
10
Rounds per minute
300
Speed
+0
Found in
Gun Bros 1
The
ER97E Elite
rifle is the gun that players get at the very beginning of the game, so, as you can imagine, it's not that great, but it is decent at annhilating those pesky zombies at Bokor. It has a good damage to RPM ratio (considering it's a beginner weapon), and also it doesn't have a speed deduction. It shoots small white projectiles at terrible speeds. These projectiles will leave orange trails, this can cause a bit of clutter. It is recommended to upgrade as soon as possible. This is the only weapon that requires a certain level to access, fortunately that level is 1.
Description
Edit
"The standard issue F.R.A.G.G.E.D. assault rifle. This is your rifle. There are many like it, but this one is yours."
| CATEGORY | LEVEL 0 | LEVEL 1 | LEVEL 2 | LEVEL 3 |
| --- | --- | --- | --- | --- |
| Power | 14 | 24 | 35 | 47 |
| RPM | 300 | 359 | | 508 |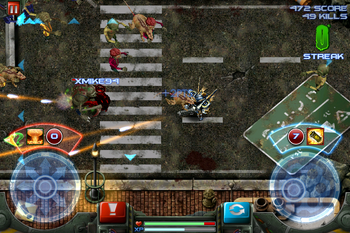 Ad blocker interference detected!
Wikia is a free-to-use site that makes money from advertising. We have a modified experience for viewers using ad blockers

Wikia is not accessible if you've made further modifications. Remove the custom ad blocker rule(s) and the page will load as expected.